Shopping Cart
Your Cart is Empty
There was an error with PayPal
Click here to try again
Thank you for your business!
You should be receiving an order confirmation from Paypal shortly.
Exit Shopping Cart
She Shed Creations

By MRobina
Happy New Year's Eve!  
Whew!  What a busy year 2017 turned out to be.  So much for writing an update each month.  Although I'd love to say I will follow through monthly next year, I am realistically just going to say I vow to do better.  "Better" is my word for the year.  Better is always reachable.  Better doesn't require huge, seemingly  unreachable goals, it simply means you are continually making progress  
It was a great year, attending 16 different fairs and shows around Oregon.  I love getting to spend time with like minded artisans and meeting old and new friends. The days can be long, but fulfilling.  Thanks to all of you that have purchased or received one of my hats or bags.  You are my best advertisement!  I appreciate the feedback and suggestions, it helps me be "better".
I've spent the afternoon folding, organizing and rearranging the She Shed.  Tomorrow will be dedicated to the same.  February through December are production months....so there is just a small window to bring order to the space.  But my hands are itching to be back at the machine sewing!  
Happy New Year to you and yours!  Thank you for support of my addiction ~ first fair is in March.....unless I find one sooner.  Here's to a great and creative 2018!
Well.......I didn't quite meet the criteria for a monthly update but I feel guilty if I'm not in front of the sewing machine, cutting out or doing the finishing work by hand.  This weekend marked the end of the summer season of fairs and shows, I think. Booked myself a little tight this year.  A show a month doesnt sound too bad until you try to get enough product done between shows.  And then there has been the heat!  The She Shed is a bit of a sweat lodge during the summer, but I'll be missing these days when I'm bundled in three layers and sewing with gloves on this winter!
I have done 9 shows in the first  8 months of the year and there are 4 more that I have booked right now for the rest of 2017, but I'm sure a couple more will pop up.  It gets to be a bit addictive!
My beautiful little She Shed looks like something exploded in there.  Apparently the hooks that we mounted for the shelving units are cheap and dont do well in warm temps either.  Went in one morning and three very full shelves of material had crashed.....but as most were winter stacks I've let them be until I need them. Unfortunately they fell in front of the material I did need, so like a good hoarder I've been walking on the stacks to get to other stacks.
After a very hot and long 4 day show., I opened the door to find the shelves that held other assorted crafting supplies had sheared off the hooks too sending things on and around my sewing maching.  I couldnt ignore this catastrophe as something had hit the sewing machine and an almost full can of varnish had emptied itself on my sewing table and all that was sitting there.  Many projects and patterns had to be tossed and my clothesline became the drying rack for patterns and instructions.  Hopefully I have some backup patterns.......but I wont know until the fabric mountain is put back on some shelves and I can get to my pattern cabinet!!!
I'm still hooked by the vintage style.  There are many artistic flares than can be added that dont always work on other, more contemporary styles.  I've been fortunate with some great material scores lately...and some of fabrics that arent that easy to come by. "Upcycling" also works great with these styles.  I was very fortunate to meet a lady at one of the shows early this summer that had acquired some vintage hats and hat boxes and asked if I would be interested in them.  Would I?!  Not only do they look fantastic as displays but they have given me a couple of new ideas and styles to try.  I also find that the 'vintage' style hats that Im sewing serve as a catalyst for memories.  I have heard some great stories about mothers or aunts or others in people's  lives that wore this particular hat and all the tales that folks remember about them.  Even the shows that may have low sales are always rich with conversation. 
Dang!  I just remembered I have another show of sorts.....this week!  We are setting up a booth to promote our Zombie Ball and a call for volunteers for this year's Haunted House t the County Fair.  So I guess I have to factor in another long and warm 4 day show in the total.
Mike wanted to make sure that I tell you that the lack of a sewing update is in no way reflective or due to his negligence. He has reminded me often that I needed to write something.  So he's off the hook and I've shared some thoughts.  The shows have been good, the styles have been fun and I'm eager to start the next project and hit some new material stores.  Can one have too much fabric?  I think not~
Hope you all have a great end to your summer and that your creative juices keep flowing.
Mary Robina
Sew What's New?
March, 2017
A day late on my second newsletter!!!  I was going to throw Mike 'under the bus' and say he didn't get the computer set up for me....but I'm too nice.  Though not related to sewing, I spent last evening attending a bee keepers meeting.  I'm not looking at donning a suit and netting and go capture a swarm, but we would like to create an area that attracts the bees and bats (learned that last night!) to help pollinate our garden and wherever else they may roam....possibly find someone that would like to put some hives out here.
Okay,sewing summary.  Spring is almost here....which means the start of the shows and fairs and the reason I'm starting to wake up in the middle of the night feeling like I should be sewing rather than just sleeping!
I'm pleased to say that I have been having relatively good success putting in zippers.  I think I avoid them more out of fear of the unfamiliar....I can put them in, but it doesn't come easily.
Another success was making a hooded vest to be worn during pregnancy and then can be changed into a vest/child carrier.  I love a pattern that can morph into several outfits throughout pregnancy and beyond.  I applaud Simplicity for offering this pattern, vs. 3 separate patterns.
Not as successful...making some cosmetic and toiletry bags.  If my goal was creating an origami frog, then I mastered that skill! I've not given up on them,
simply have set them aside while I've whipped out some insulated lunch bags.
If I had the technology skills, I'd have included a selfie I took one cold day up in the She Shed.  We have put insulation up on the walls but the ceiling is still open.  It has been quite nippy at times. It can create a sewing challenge when you're wearing a coat, vest, hood and mittens! The one day was glorious when I was able to open the door and let the fresh air in when it hit 45 degrees.  Okay, not exactly tropical but if you live in Oregon you recognize that as shirt sleeve weather!
The next few weeks I put the Haunter's Convention production on hold and work  at getting sun hats and all things 'Spring' made.  Three weeks until the first Craft Fair.  Sleep?  Sew?  Sleep?  Sew?  Sigh.  
Have a great month....go create something!
Mary Robina
She Shed Creations
This started out to be my first attempt at a monthly blog....but I crashed the computer, so we'll call this 'first attempt, take two'.
Today marks a year since we closed the doors to our shop and Artisan's Boutique and moved to a home based business.  I now have my own She Shed, nestled in a the trees, to escape to at the end of the work day.  There's something soothing about the hum of the sewing machine and being able to look out the window and watch the birds and wildlife stroll by.  
My New Year's resolution, of sorts, is to produce at least one item a month that I have never sewn before. In January I completed several, so I'm ahead of the game if I should fall behind one month. With a niece due to have her first child this month and a nephew becoming a first time father in January I had the opportunity to try my hand at baby clothes.  I learned there are lots of little, tiny edges and seams in those little outfits.  Our  oldest is expecting her first child this spring and it seemed like a great reason to whip up some maternity outfits.  These I have to place in the 'attempted' column.  Even though they haven't yet been a success I did reach the conclusion that I will NOT be sewing much with slinky knits!  I have a whole new appreciation of the seamstresses out there that focus on women's attire.  Without them I would most likely be wearing a lot of burlap sacks.  It takes far more patience than I possess!
Millinery continues to be my favorite by far.  Purses and bags are fine and serve a purpose but a hat makes a statement!  This past month I added a few more styles to my inventory.  I have now made a few pillbox hats, complete with netting, which have been a lot of fun to make.  There are several more waiting to be put together.....straying some from their standard look as I prepare items for the annual Haunter's Convention in Portland, OR.
My other goal for the year is to do at least one fair/show/festival a month..  In January I had a booth at the local Bridal Fair.  I'm looking forward to opportunity one day of create the hats for an entire bridal party, but I'm also wanting to do more wedding planning and floral.  Something I have done informally for folks over the years, but would now like to take it a step further. I started working on my calendar of events last night and have 8 shows scheduled between now and August.....still need to find one for February if anyone knows of one in our area!
Computers and technology are far from my area of expertise....as evidenced by me crashing the earlier attempt.  Thankfully my husband is patient and skilled and is able to take over for the technology section of my brain that is missing.  Which is fine as that allows me more time to go sew.  With luck I'll (he'll) be able to post photos of my new items each month, but as of today I have met my January goals and completed my first monthly blog.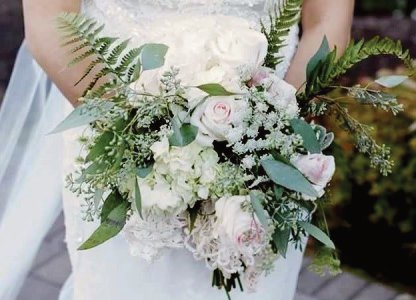 Go create something!
MRobina
I Rule!
Mike
/