Shopping Cart
Your Cart is Empty
There was an error with PayPal
Click here to try again
Thank you for your business!
You should be receiving an order confirmation from Paypal shortly.
Exit Shopping Cart
She Shed Creations

By MRobina
| | |
| --- | --- |
| Posted on February 2, 2017 at 12:48 AM | |
This started out to be my first attempt at a monthly blog....but I crashed the computer, so we'll call this 'first attempt, take two'.
Today marks a year since we closed the doors to our shop and Artisan's Boutique and moved to a home based business.  I now have my own She Shed, nestled in a the trees, to escape to at the end of the work day.  There's something soothing about the hum of the sewing machine and being able to look out the window and watch the birds and wildlife stroll by.  
My New Year's resolution, of sorts, is to produce at least one item a month that I have never sewn before. In January I completed several, so I'm ahead of the game if I should fall behind one month. With a niece due to have her first child this month and a nephew becoming a first time father in January I had the opportunity to try my hand at baby clothes.  I learned there are lots of little, tiny edges and seams in those little outfits.  Our  oldest is expecting her first child this spring and it seemed like a great reason to whip up some maternity outfits.  These I have to place in the 'attempted' column.  Even though they haven't yet been a success I did reach the conclusion that I will NOT be sewing much with slinky knits!  I have a whole new appreciation of the seamstresses out there that focus on women's attire.  Without them I would most likely be wearing a lot of burlap sacks.  It takes far more patience than I possess!
Millinery continues to be my favorite by far.  Purses and bags are fine and serve a purpose but a hat makes a statement!  This past month I added a few more styles to my inventory.  I have now made a few pillbox hats, complete with netting, which have been a lot of fun to make.  There are several more waiting to be put together.....straying some from their standard look as I prepare items for the annual Haunter's Convention in Portland, OR.
My other goal for the year is to do at least one fair/show/festival a month..  In January I had a booth at the local Bridal Fair.  I'm looking forward to opportunity one day of create the hats for an entire bridal party, but I'm also wanting to do more wedding planning and floral.  Something I have done informally for folks over the years, but would now like to take it a step further. I started working on my calendar of events last night and have 8 shows scheduled between now and August.....still need to find one for February if anyone knows of one in our area!
Computers and technology are far from my area of expertise....as evidenced by me crashing the earlier attempt.  Thankfully my husband is patient and skilled and is able to take over for the technology section of my brain that is missing.  Which is fine as that allows me more time to go sew.  With luck I'll (he'll) be able to post photos of my new items each month, but as of today I have met my January goals and completed my first monthly blog.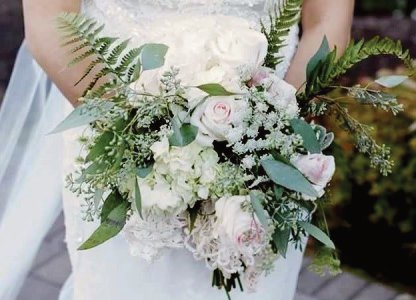 Go create something!
MRobina
I Rule!
Mike
Categories: She Shed By MRobina
/